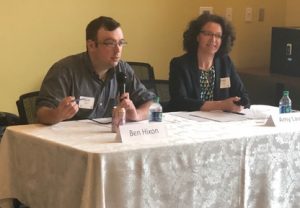 Rivanna held a candidate forum for three positions on the Democratic Party Primary ballot on June 11:
State Senate District 17 – Amy Laufer and Ben Hixon
House of Delegates District 57 – Sally Hudson and Kathy Galvin
Rivanna member of the Albemarle County Board of Supervisors – Jerrod Smith and Bea LaPisto Kirtley.
(Unfortunately, we did not have time for the position of County Sheriff, with candidates Chan Bryant and Patrick Estes.)
Each candidate summarized their background and stated their positions on key issues in response to questions from the audience.
A total of about 70 people attended at least one segment of the program. You can see a very good video report on nbc29.com. (PLEASE NOTE: This will be available only until about May 25.)
You will find a Daily Progress article on the Board of Supervisors segment at this link:
https://www.dailyprogress.com/news/local/county/at-forum-supervisor-candidates-discuss-issues-facing-rivanna-district/article_9cd62bc4-744c-11e9-9f32-9be5543f168e.html
It was an informative, educational, and enjoyable afternoon. The candidates were impressive and the audience was very appreciative.
PLEASE VOTE ON JUNE 11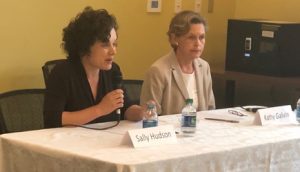 Primaries are key elements of the Election cycle, and unfortunately are frequently neglected. Voter turnout is typically low. Voting on June 11 is especially importantfor the House of Delegates seat because there will be no Republican on the ballot in November, and most probably no Independents. Whoever wins this Primary is almost certain to be the next House of Delegates member for parts of the County around Charlottesville and the City itself.
MORE INFORMATION ON THE CANDIDATES
can be found on their websites shown below.
State Senate 17thDistrict
Ben Hixon – benhixon.com
Amy Laufer – lauferforvirginia.com
House of Delegates 57thDistrict
Kathy Galvin – galvinfordelegate.com
Sally Hudson – sallyforvirginia.com
Rivanna Member of the Albemarle County Board of Supervisors
Bea LaPisto Kirtley- beaforalbemarle.com
Jerrod Smith – smithforbos.com
Albemarle County Sheriff
Chan Bryant- chanforsheriff.com
Patrick Estes- estesforsheriff.com 
KEY DEADLINES FOR THE PRIMARY
To register or update an existing registration: Monday, May 20, 2019.
To request an absentee ballot to be mailed to you: Your request must be received by your Registrar by 5PM on Tuesday, June 4, 2019.
To vote in-person absentee: Saturday, June 8, 2019
For complete information on your Voter Registration, where to vote or to determine your District for both the Senate and the House log onto the Virginia Department of Elections website at elections.virginia.gov or contact the Albemarle County Registrar's Office.  The phone number is 434-972-4173.  They are located at the 5thStreet County Office Building, 1600 5thStreet, Charlottesville, VA  22902.   Their normal hours are Monday – Friday 8:30 a.m. to 4:30 p.m. and they will also be open on Saturday, June 8th.